Overview
Western Australia's Waste Avoidance and Resource Recovery Strategy 2030 (waste strategy) sets out objectives and strategies for transitioning the state towards a circular economy.
Released in 2019, the strategy contains a vision for WA to become a sustainable, low‑waste, circular economy in which public health and the environment are protected from the impacts of waste.
The Waste Authority is leading a review of the waste strategy. The review provides an opportunity to reflect on how it is performing, what is working, and what it could do differently.
The consultation is now open and we want to hear from you. To begin the consultation, a directions paper has been released and is available to read. We encourage you to give feedback through the online survey or in writing.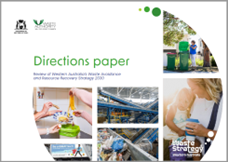 How we are consulting the community and waste industry
The review includes the following opportunities to have your say:
Phase 1: Directions paper (this phase)
This directions paper sets out the key areas the Waste Authority proposes to focus on in the review and provides opportunity for you to comment.
Your input to this first phase of consultation will inform and help set the direction for the draft updated waste strategy. You will also have an opportunity to comment on the draft updated waste strategy later in the review.
Phase 2: Draft waste strategy (late 2023)
Feedback on the directions paper will inform the draft updated waste strategy, which will be released for consultation for a minimum of 12 weeks.
There will be public information sessions to work through the draft strategy and encourage feedback.
Feedback on the draft waste strategy will inform the final waste strategy.
Have your say
1. Download and read the directions paper
2. You may register for an optional online information session. Please note, registrations close at 11:59pm on Tuesday 20 June 2023. 
3. Provide feedback on the directions paper by 5pm on 11 July 2023. You can do this by:
Waste Strategy Review Department of Water and Environmental Regulation, Locked Bag 10, Joondalup DC WA, 6919. For further information on this consultation please contact (08) 6364 6965.